Creality Ender 3 S1 Pro 3D Printer Reviews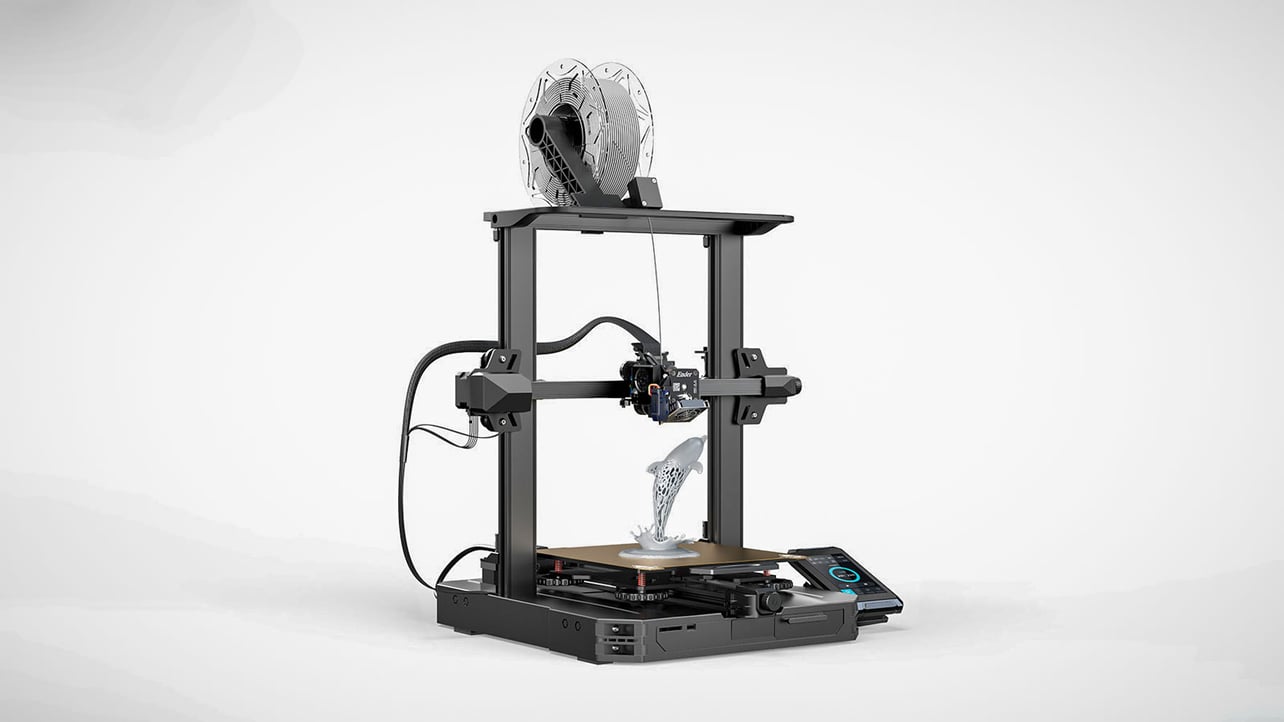 As it's now been a little over 5 minutes since the release of the Creality Ender 3 S1, a "Pro" suffix is overdue for an appearance. Any second now, and ah, here it is, the Creality Ender 3 S1 Pro – a slightly upgraded version of an already upgraded 3D printer that was an upgrade of another 3D printer, which was actually also an upgrade… oh, you get the idea.
OMG it's sooo hawt. The nozzle temperature has been promised to reach the sweaty heights of 300 big ones, sending molten filament through the nozzle and onto a PEI spring steel build plate that can be enwarmend to a toasty 110 ℃. That means you should be able to play with some rather exotic filaments, opening up more printing possibilities, and thereby dialing up the fun.
It also packs a new version of the dual-geared "Sprite" direct extruder which is now all-metal, and Creality's own CR Touch automatic bed leveling we became fans of during our time testing the S1, a 32-bit silent mainboard, a 4.3-inch color touchscreen, LED lighting, and there's even talk of a liquid-cooled heatsink being available for this thing. Cool, hopefully.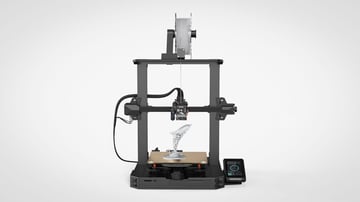 CREALITY ENDER 3 S1 PRO:
Features
FEELING HOT HOT HOT
We've got a significant increase in the temperature that the hot end can reach here, up from 260 ℃ in the regular S1 to 300 ℃ for this Pro version. That means the filament door has been opened wider, and a whole bunch of plastic strands like Nylon, PC, and ASA are now possible. It'll take a little experimenting with the settings and possibly a nozzle change here and there to take full advantage of this, but boy, doesn't that sound fun?
Speaking of nozzles, the new S1 Pro comes equipped with a brass nozzle. Standard stuff. It would have been nicer to see it outfitted with something tougher and abrasion-resistant like stainless steel. However, this is likely to be an easy first upgrade for many users.
HEAVY METAL SPRITE
As tested on the Ender 3 S1, the Sprite direct extruder was excellent and impressed us. The "standard" Sprite on the S1 has a featherlight weight of 210 g, but it piles on the pounds for the S1 Pro.
Creality states the S1 Pro's Sprite's weight is 334 g, a 59% increase on the standard Sprite. If we increased our weight by 59%, we'd be considered a medical liability. It's not good for us, and it potentially isn't good for print quality either. Extra mass means more inertia to overcome in changes of direction. Motion systems with too much give in them will transfer this to the print as ringing (also known as ghosting).
In its defense, it's now an all-metal hot end, so all that extra metal naturally adds grams. With a pushing force of 80 N, at the very least, it should prove a sturdy source of filament for the melting, even the trickier materials.
CR TOUCH
The automatic bed leveling system in the S1 printers is Creality's own CR Touch, which we found worked superbly well during our review of the base S1. This clever gadget jabs the S1 Pro's print bed with a metal probe in 16 pre-defined locations to account for any unevenness it discovers on its pokey little journey.
Returning to the S1 Pro, expect the CR Touch to perform consistently and without any issues, as that's what it should do.
32-BIT MAINBOARD
The 32-bit mainboard in the S1 Pro is a "silent," likely to be the same board as found in the standard S1. Its name? CR-FDM-v2.4.S1_v301. Beautiful.
Like all other "silent" Creality mainboards, the (deep breath) CR-FDM-v2.4.S1_v301 carries stepper motor drivers that manipulate the current through the motors, effectively silencing them. The standard S1 printer has Trinamic TMC2208 drivers, so we expect that to be the case here, too.
Nerd note time; the drivers here are not typically set up for those who like to get into more advanced firmware-based stuff like messing with voltages and sensorless homing. At least, not without some serious and very careful tinkering with a soldering iron.
After reaching out to Creality for clarity on some points, the company told us that the mainboard is better equipped for modular installations and more resistant to interference. We got nothing more specific than that.
A port is certainly left open for an optional laser engraver attachment, something a few users may wish to use.
Just expect the juice held in the board to give you a smooth, quick operating experience and you'll be unlikely to be disappointed with it.
SPRING STEEL PEI BUILD PLATE
It's springy. It's steely. It's the spring steel PEI build plate, everyone – yaaaaay! This little plate flaps down onto the print bed and can be removed by peeling it off. Give it a flex, and the prints should peel off with relative ease. Maintenance in the form of a quick wipe down with some alcohol and it should be ready for more.
Something else worth noting about the print bed is the inclusion of insulation on the underside of the heated bed. That should improve efficiency and shorten the time it takes for the bed to heat.
HOW CONVENIENT
There are many convenience features to be found on the S1 Pro. An LED light bar at the top of the gantry lights up your print bed like a prison searchlight, and there's a handle for pulling out the heated bed without losing your fingerprints. Plus, a sensibly-sized input for a full-size SD card helps you stay sane. Not to mention the slightly wider tool drawer gives you more space to stash snacks. Maybe.
A filament sensor and resume print function also serve as helpful safety nets.
The S1 Pro is also, according to Creality, 96% assembled, meaning putting it together shouldn't take all that long. Novices may find it longer than experienced users, as Creality's instructions almost always lack depth.
FUTURE LIQUID COOLING HEATSINK
Liquiiiiid! This is coming, according to Creality. It isn't ready yet, and is, at the time of our last chat with them, still in the testing phase, but at some point in the future you'll be able to buy yourself a liquid cooling heatsink for the S1 Pro. Our only question would be why you'd want to bother. There's really no need for this at all, unless Creality has some sort of crazy 500 ℃ extruder on the way. But, surely they don't… do they?
FURTHER FEATURES
4.3-inch touchscreen UI: Yeah, that's alright, isn't it? The S1 Pro gets upgraded to a touchscreen that the S1 did not have. So, no rotary knob here, just a big shiny screen you'll poke, clean with an alcohol wipe, poke some more, clean, poke, clean, and so on. Also, there are now nine different languages offered within it, not just the Chinese and English provided on the S1. Take your pick from the additional German, Spanish, French, Italian, Portuguese, Russian, or Turkish.
Dual-Z-axis: Offering additional stability, a synchronized dual-driven Z-axis should help keep things looking pristine through the top of the print volume. It could be more valuable than ever with a heftier extruder now present.
Lighter base: Creality has done away with the metal base of the S1 and instead given us an all-plastic one-piece base. Could that lead to more vibrations? Or has Creality cracked it and made something just as stable as before?
CREALITY ENDER 3 S1 PRO: Price
Although we've seen it for sale for more, the Ender 3 S1 Pro is priced at £469, making it around £60 more expensive than the standard S1. You shouldn't need to pay more than that, despite some retailers' best attempts to try it on.
£469 doesn't look like a bad deal, though it's clear for anyone to see that the Ender 3 series is becoming less and less of a budget 3D printer if you want the latest models.
It's worth noting that if you've already bought yourself an S1, you can easily pick yourself up the Sprite Pro extruder. Priced at around £60, the upgrade kit likely takes you 90% of the way to the experience of the S1 Pro, though you may also want to upgrade the build platform. The point is that "Pro" temperatures are not entirely out of reach for existing S1 users.
CREALITY ENDER 3 S1 PRO: Reviews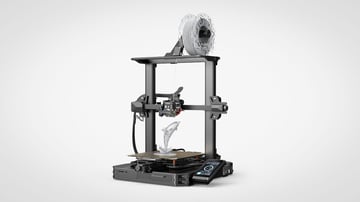 It's a pretty new machine, so there isn't a vast web of reviews to parse just yet. From what there is, the Ender 3 S1 Pro has received good feedback so far.
Some users have been critical of the UI, which seems to be a little less elegant and a bit fussier than that found on the S1, while there has been some surprise and concern expressed by the community on just how difficult it is to take the extruder apart in the event of a clog. That, however, is what you get with a direct extruder. They are more complex and intricately packaged than Bowden extruders.
We rated the Ender 3 S1 as our Best 3D Printer Under £500, so we have high hopes the Pro version will build on its success.
CREALITY ENDER 3 S1 PRO: Tech Specs
GENERAL SPECIFICATIONS
3D PRINTER PROPERTIES
Build volume: 220 x 220 x 270 mm
Feeder system: Direct
Print head: Single nozzle
Nozzle size: 0.4 mm
Max. hot end temperature: 300 ℃
Max. heated bed temperature: 110 ℃
Print bed material: Spring steel sheet
Frame: Aluminum
Bed leveling: Automatic
Connectivity: SD card, USB-C
Print recovery: Yes
Filament sensor: Yes
Camera: No
MATERIALS
Filament diameter: 1.75 mm
Third-party filament: Yes
Filament materials: PLA, ABS, PETG, Flexibles, Carbon Fiber, Nylon, ASA
SOFTWARE
Recommended slicer: Creality Slicer, Cura, Simplify3D, Repetier-Host
Operating system: Windows, Mac OSX, Linux
File types: STL, OBJ, AMF
DIMENSIONS AND WEIGHT
Frame dimensions: 490 x 455 x 625 mm
Weight: 8.6 kg