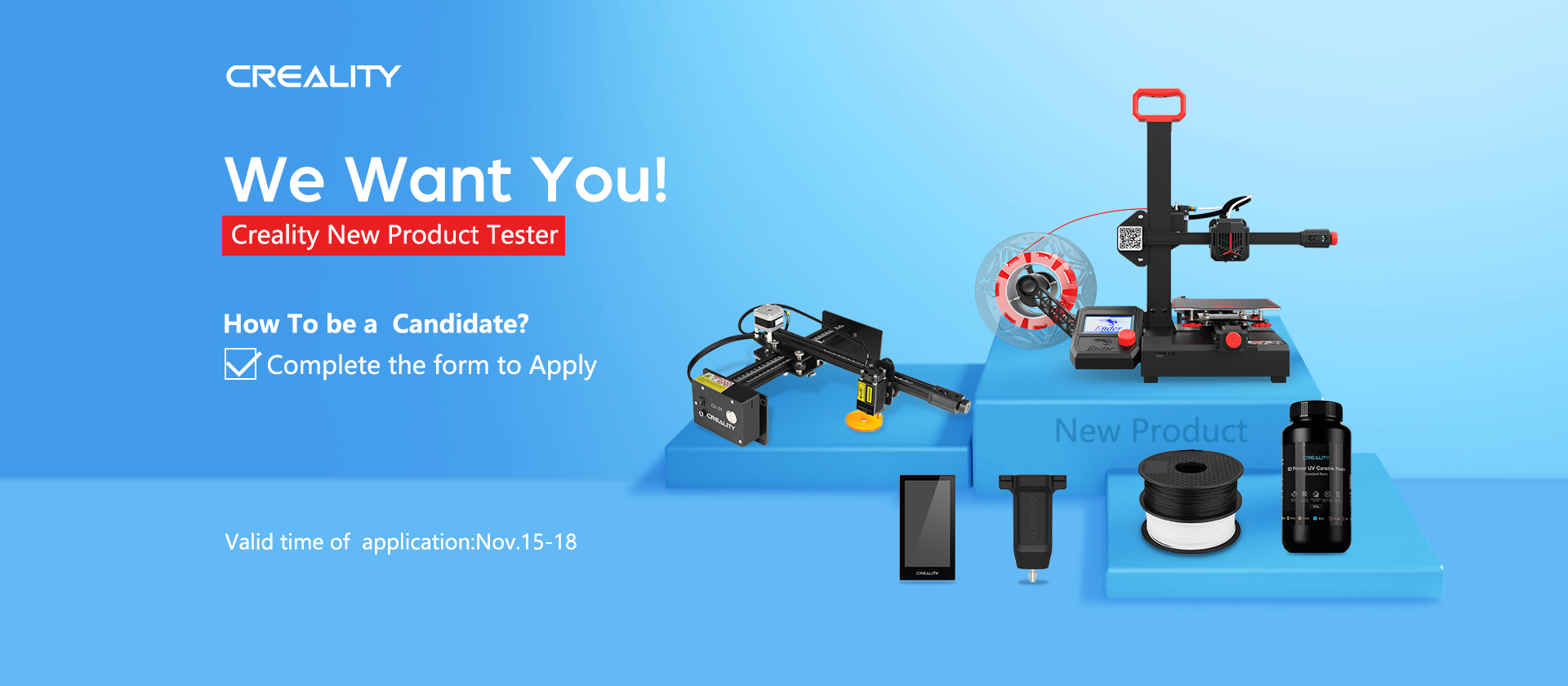 We Want You! Creality New Product Tester
How To be a Candidate? Complete the form to Apply:
https://docs.google.com/forms/d/1xA2FR--K8CNKOwDjCdAUM_Ftjw5YSloERDLKIe8zugQ
Valid time of application: Nov.15-18
Wanna Become A Creality Product tester and get our latest product and keep for free? there is the chance!
Apply to have a chance to Become a Creality3d official tester and tell us your thoughts about our products.
Just Hurry up!
Product 1: Ender-2 Pro 3D Printer*2
Product 2 : CV01*1
Product 3 : Creality 3D Pad 5 Inch HD Display Screen*3
Product 4: White/Black PLA Filament*6
Product 5 : Creality CR Touch Auto Leveling Kit*6
Product 6 :Creality 3D Printer Resin*6
Follow Creality3d Official User Group, Get the Newest Update of Our Activities!

ABOUT THE PRODUCT TEST
Become a Creality3d official tester and tell us your thoughts about our products. Testers are expected to have sufficient 3D printing experience to provide insightful feedback. Your advice will help with our product innovation and provide references for other customers. Some product test requires the tester to own a specific Creality Printer. We might need you to provide your printer information.
*Notice
We will release our new product test solicitation from time to time.You could select your interested test in our current test collection below. By default, applicants will be responsible for providing a meaningful evaluation for the Creality3d official store. Tester can only apply for one test in our program at the same time.
*How to Become a Tester
To become a Creality3d product tester, please sign up or log in to your Creality3d official account. Tester will is also suggested to provide a social media page link and join our official user group to post your review on our products.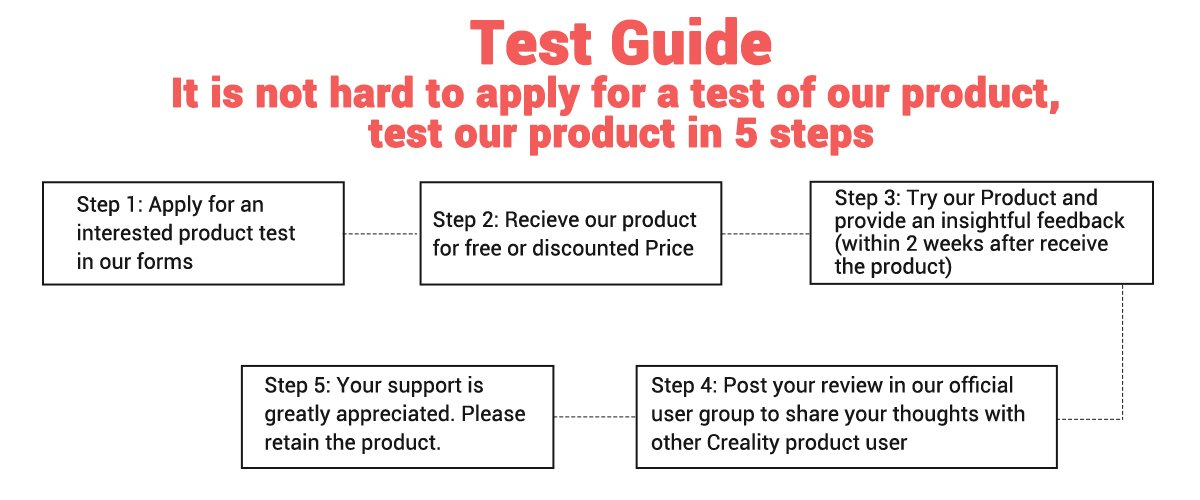 (Previous)Test archive
1st Product Testing Event
The product Testing program is set for 3D Printing enthusiasts to test our latest products. We deeply appreciate your attendance of our 1st Product Testing Event. During this event, 31 participants were selected to test our latest products including 1* HALOT-One Resin printer, 10 * High-Temperature Full Hot End Kit, 10* Creality UV Curable Resin 500g, 10* CR Touch Auto Leveling Kit. Tester selection is unbiased but may be under the effect of local warehouse stocking status and logistics service availability. Our goal is to collect fair and constructive reviews and make it viewable in Creality3d official Facebook User Group. Providing reliable reviews for shoppers is the first priority of our product testing program.
Product 1: High-Temperature Full Hotend Kit for Ender 3/Ender 3 Pro
Product 2: Creality UV Curable grey Resin 500g
Product 3: Creality CR Touch Auto Leveling Kit
Product 4: HALOT-One Resin Printer