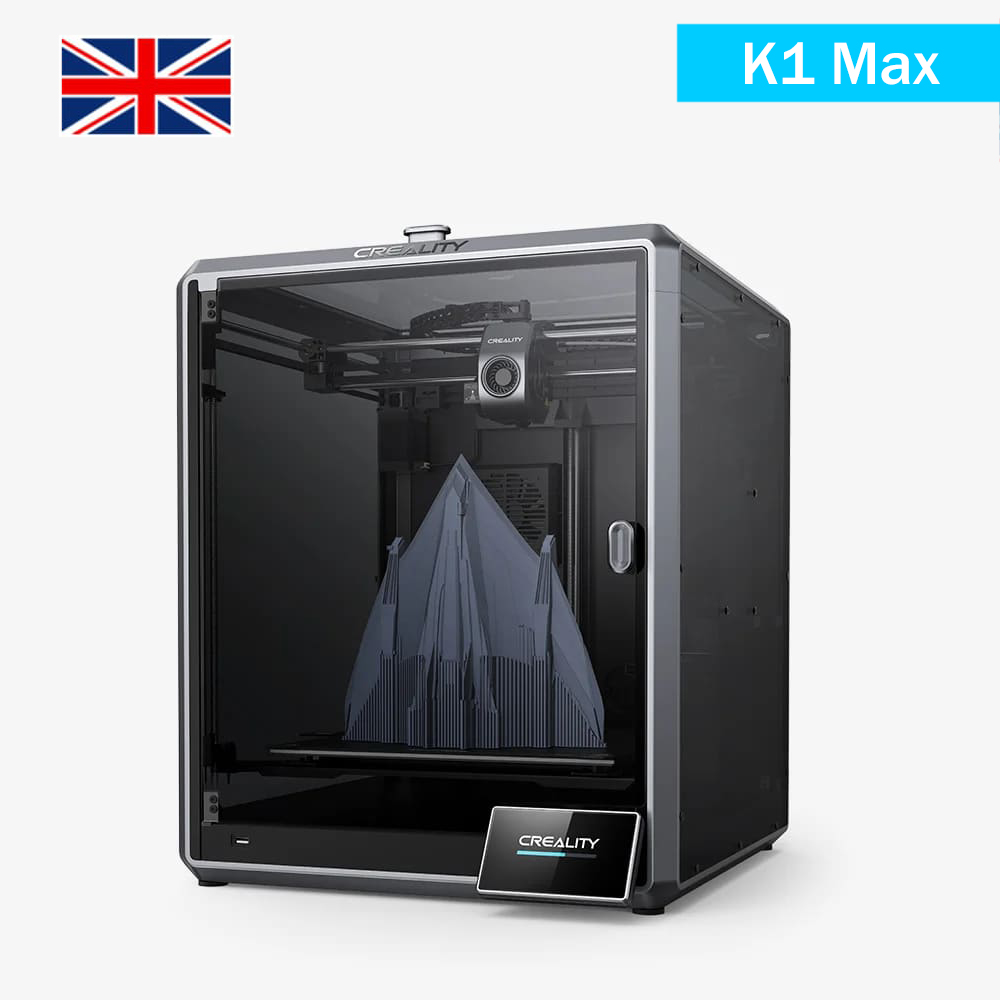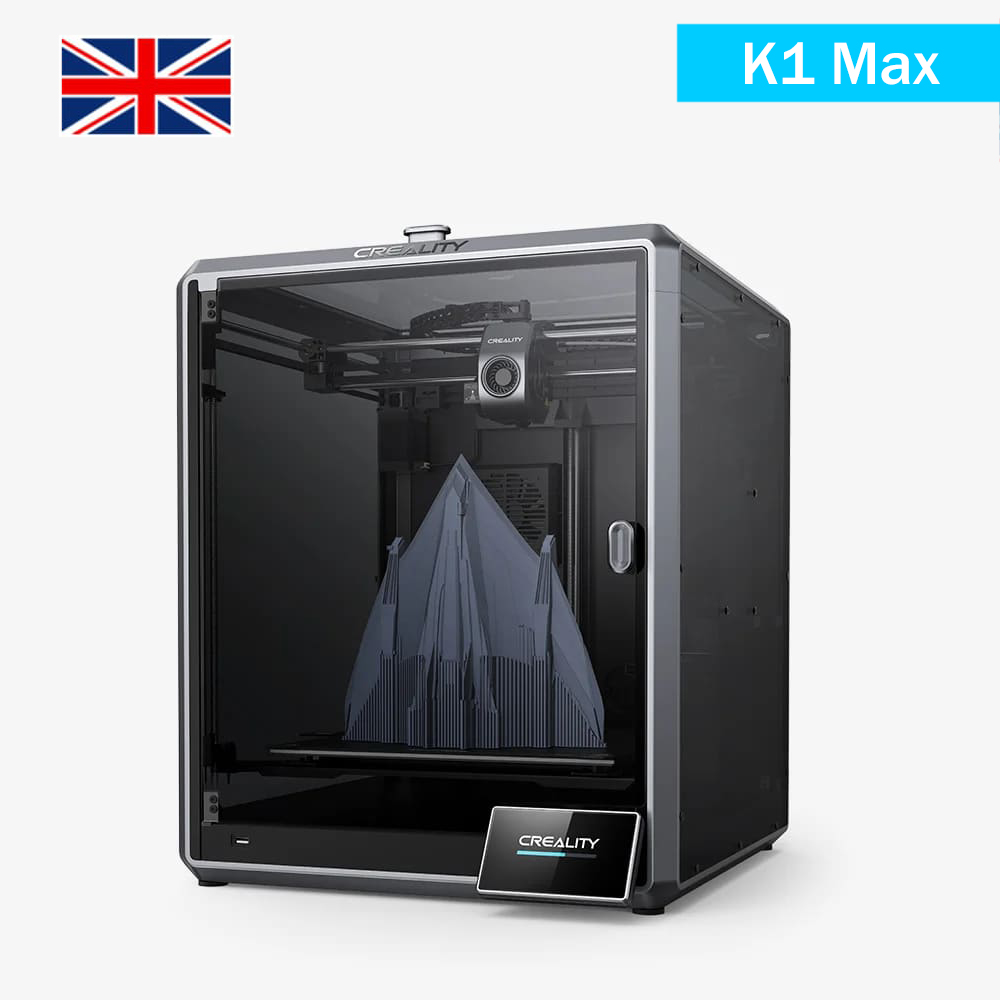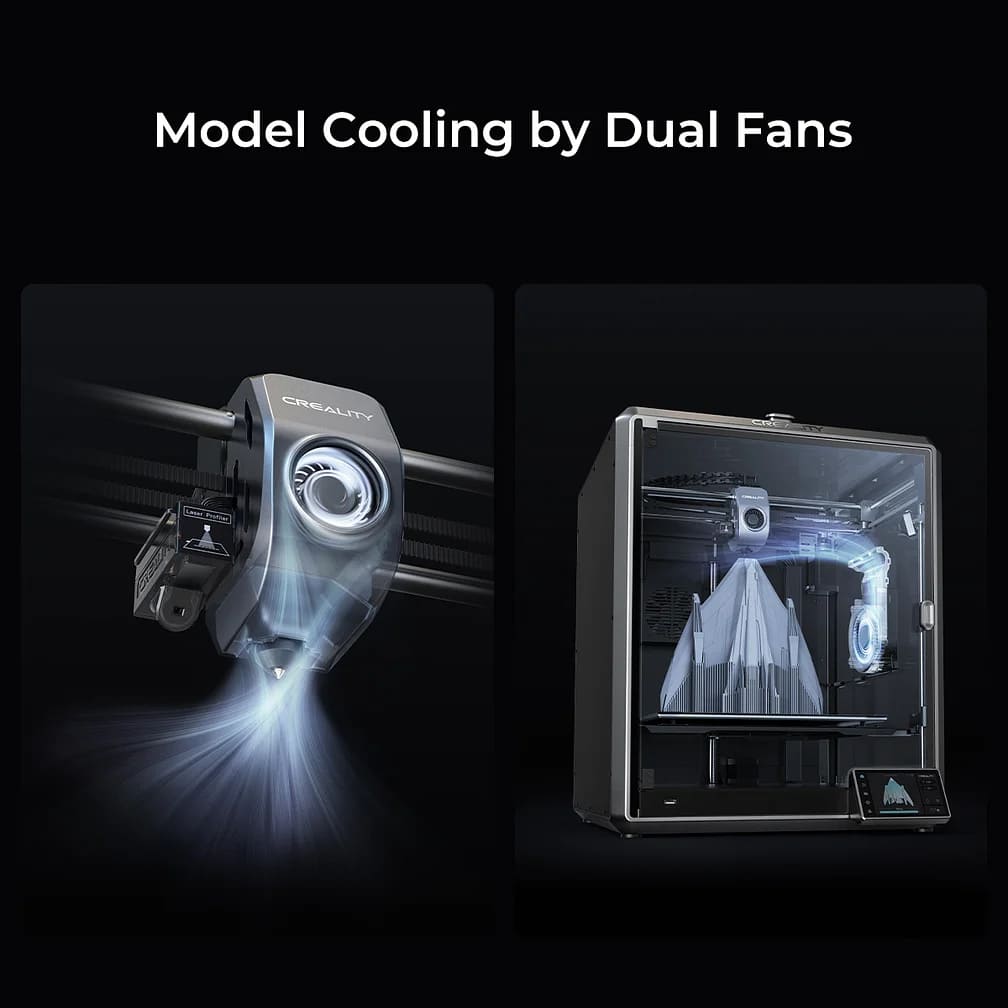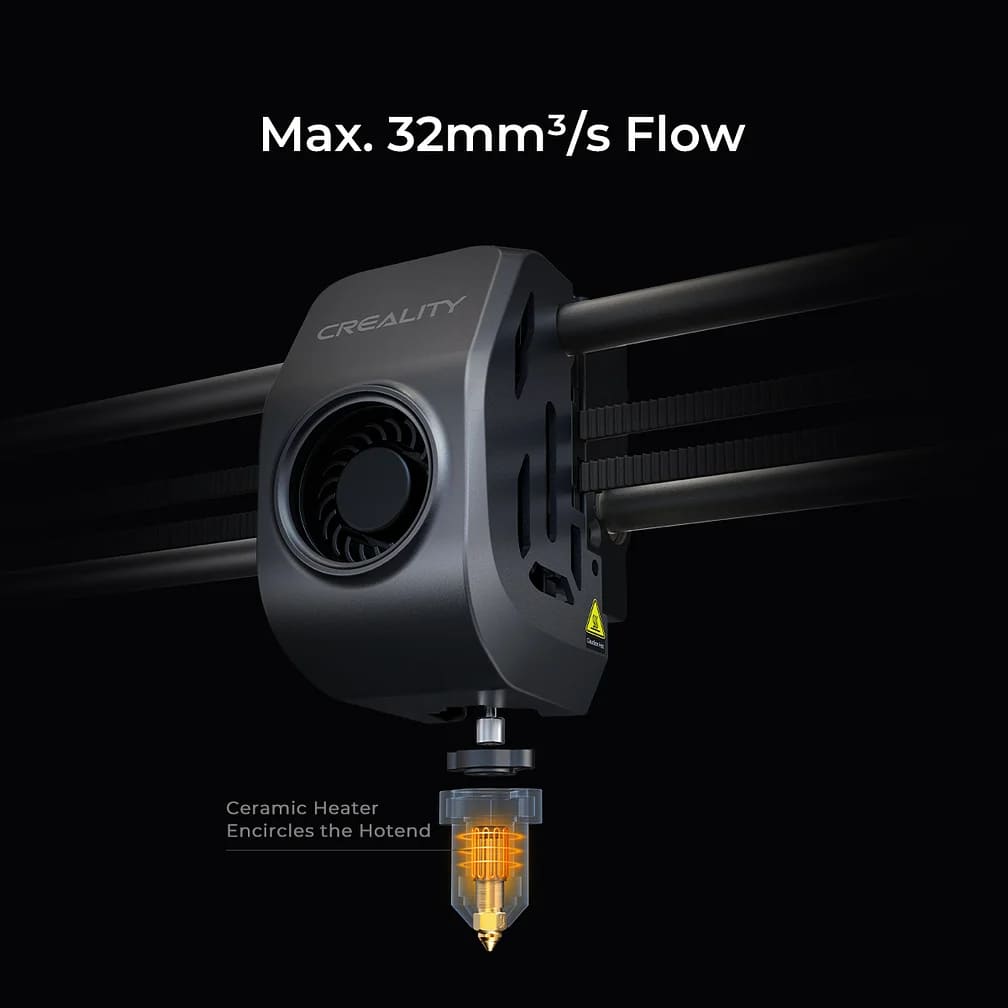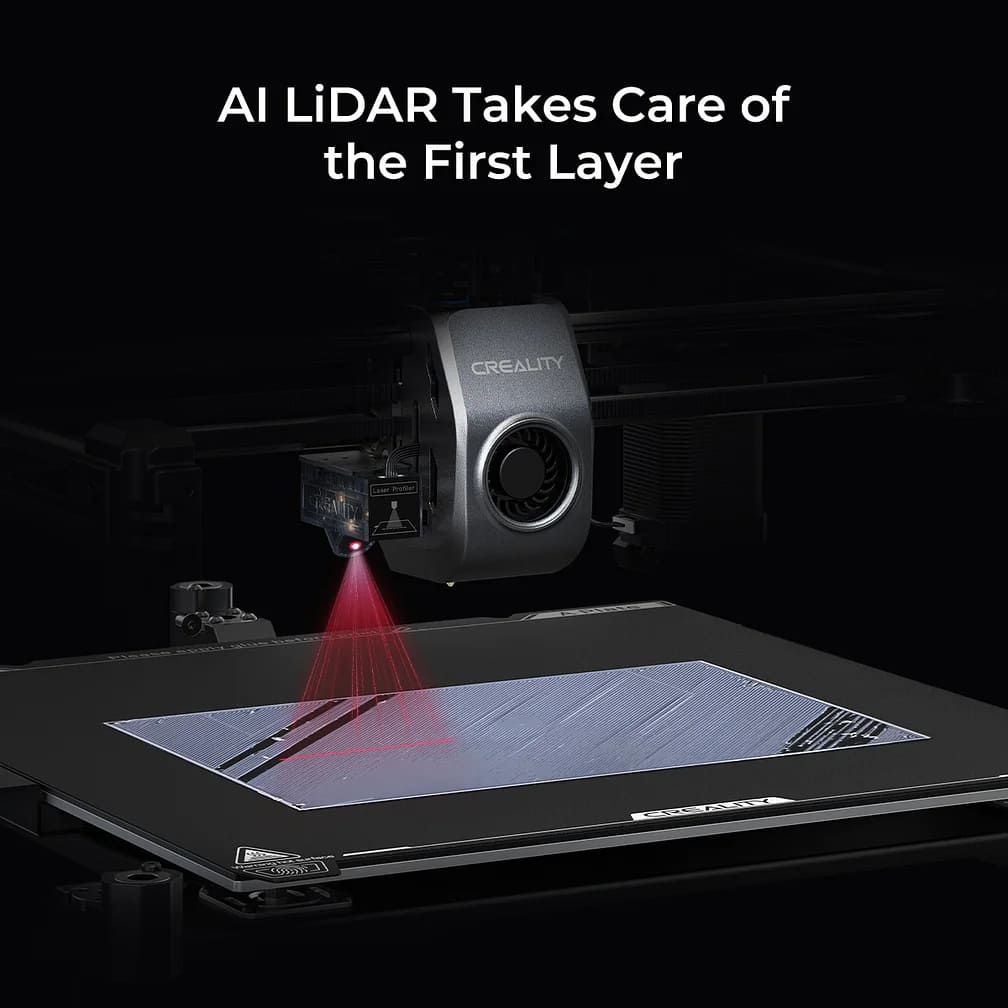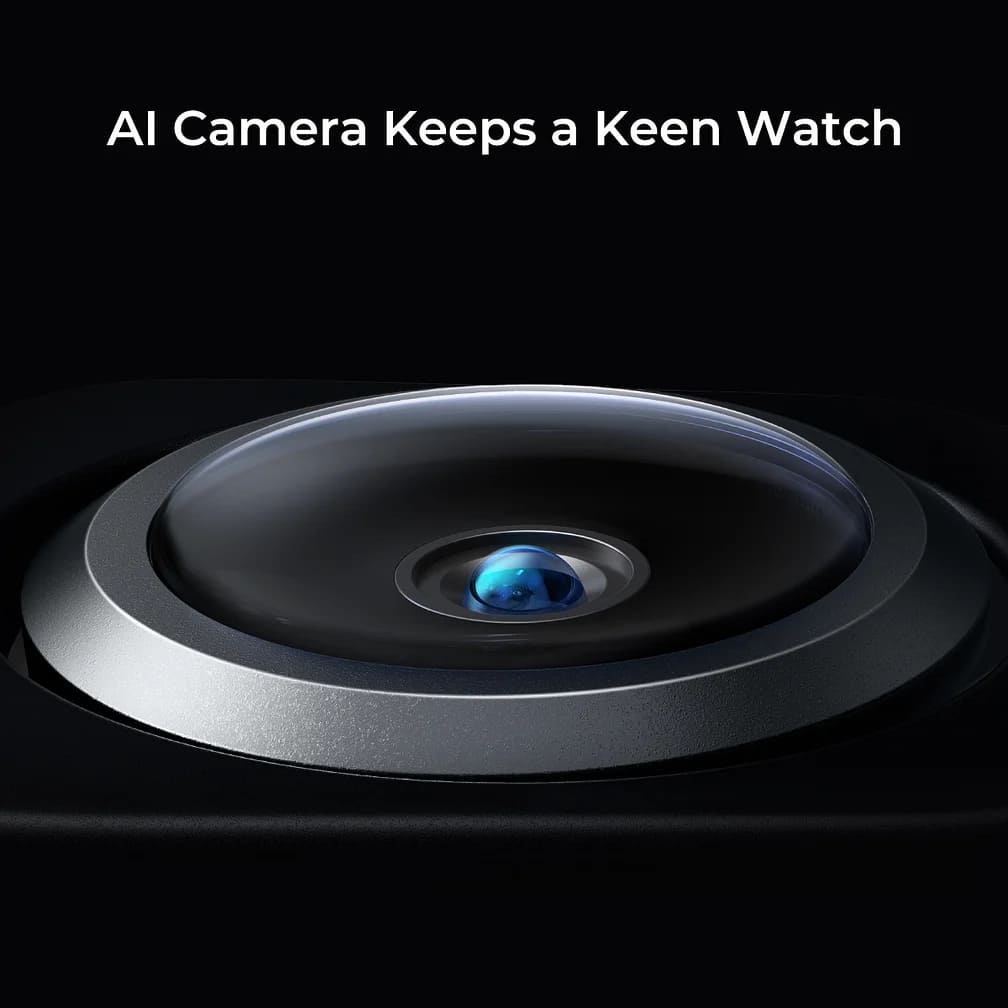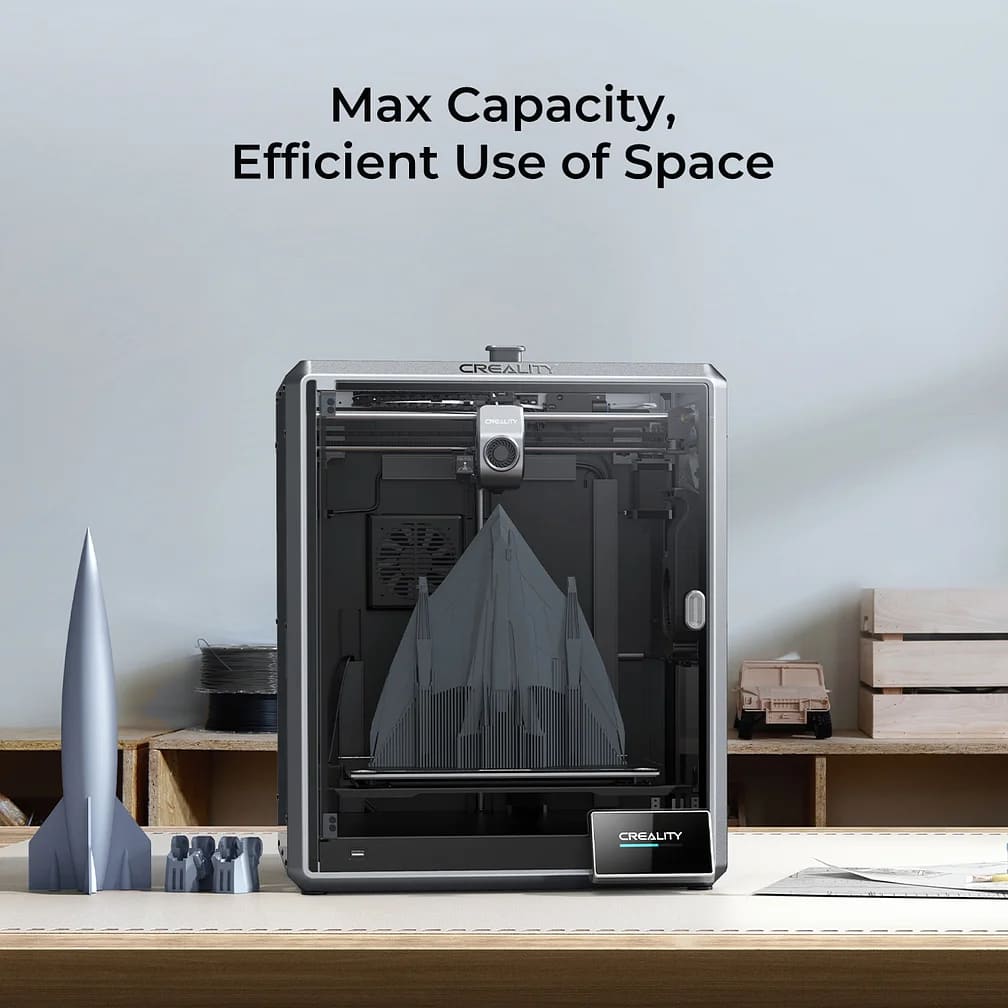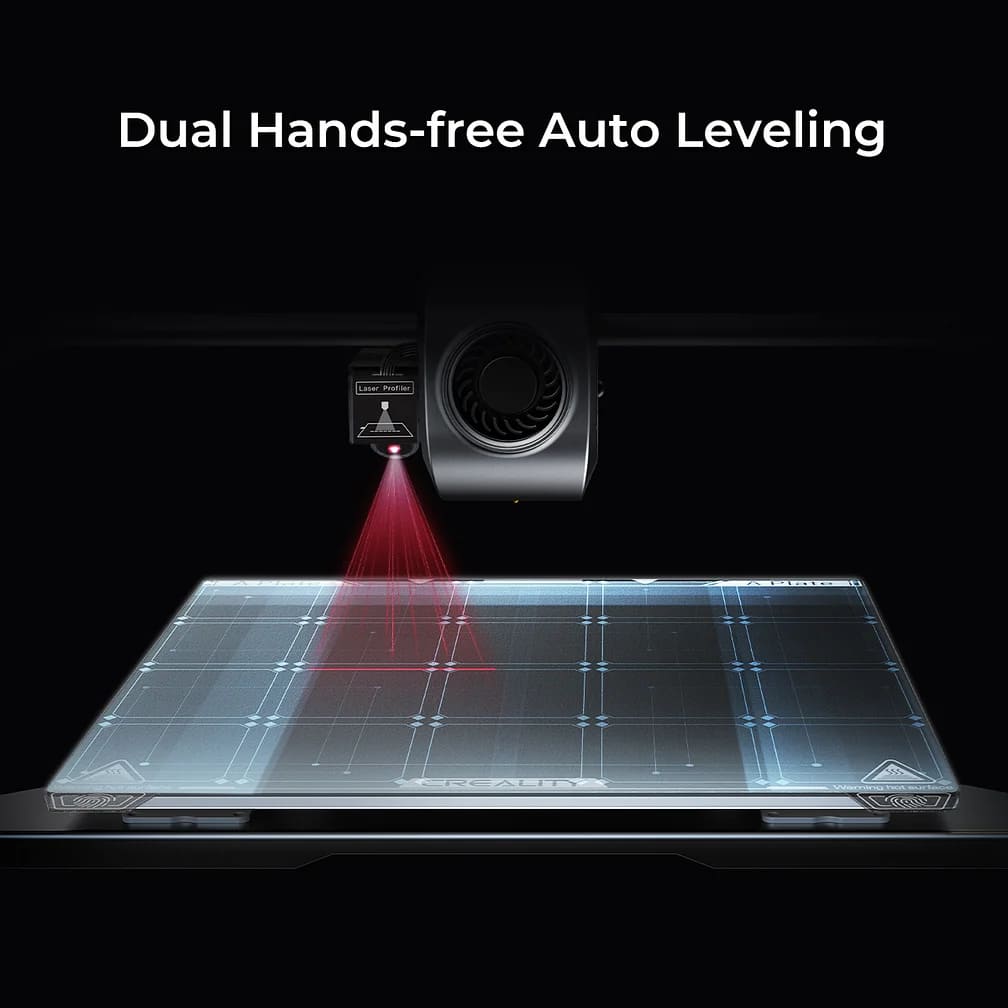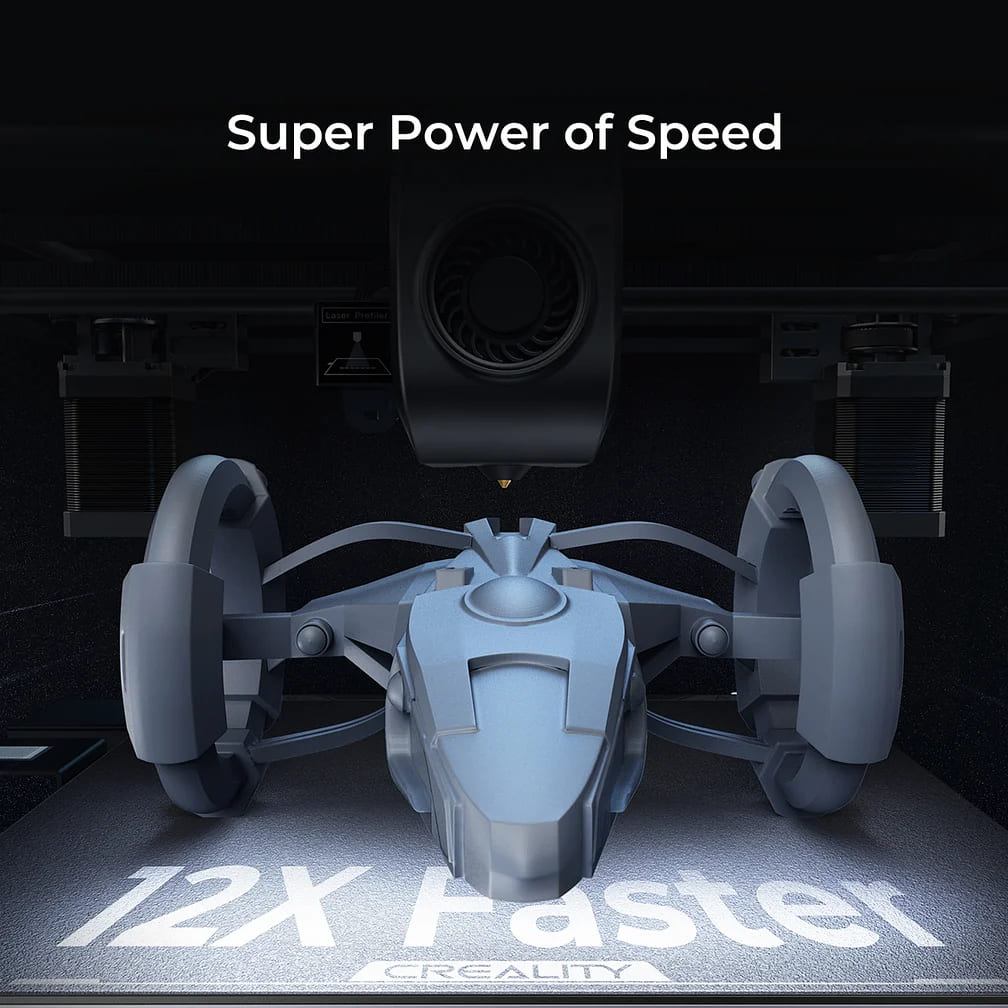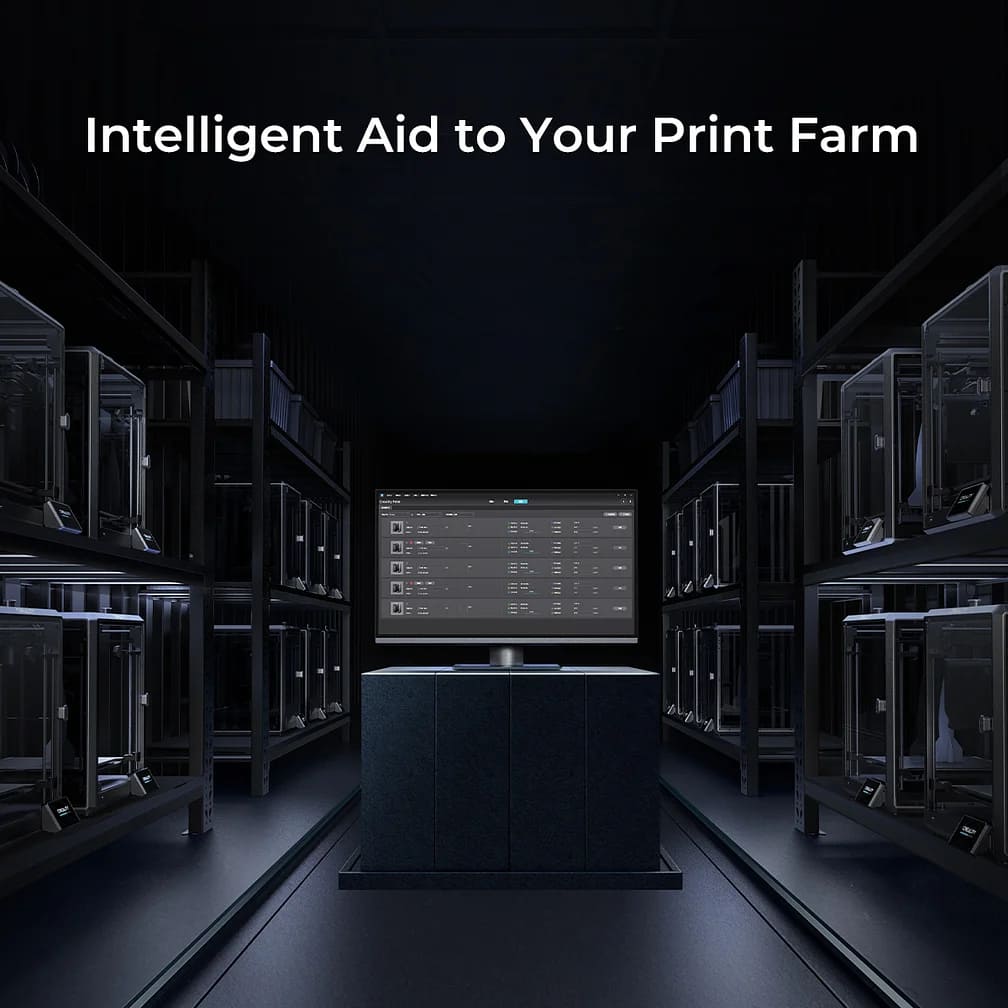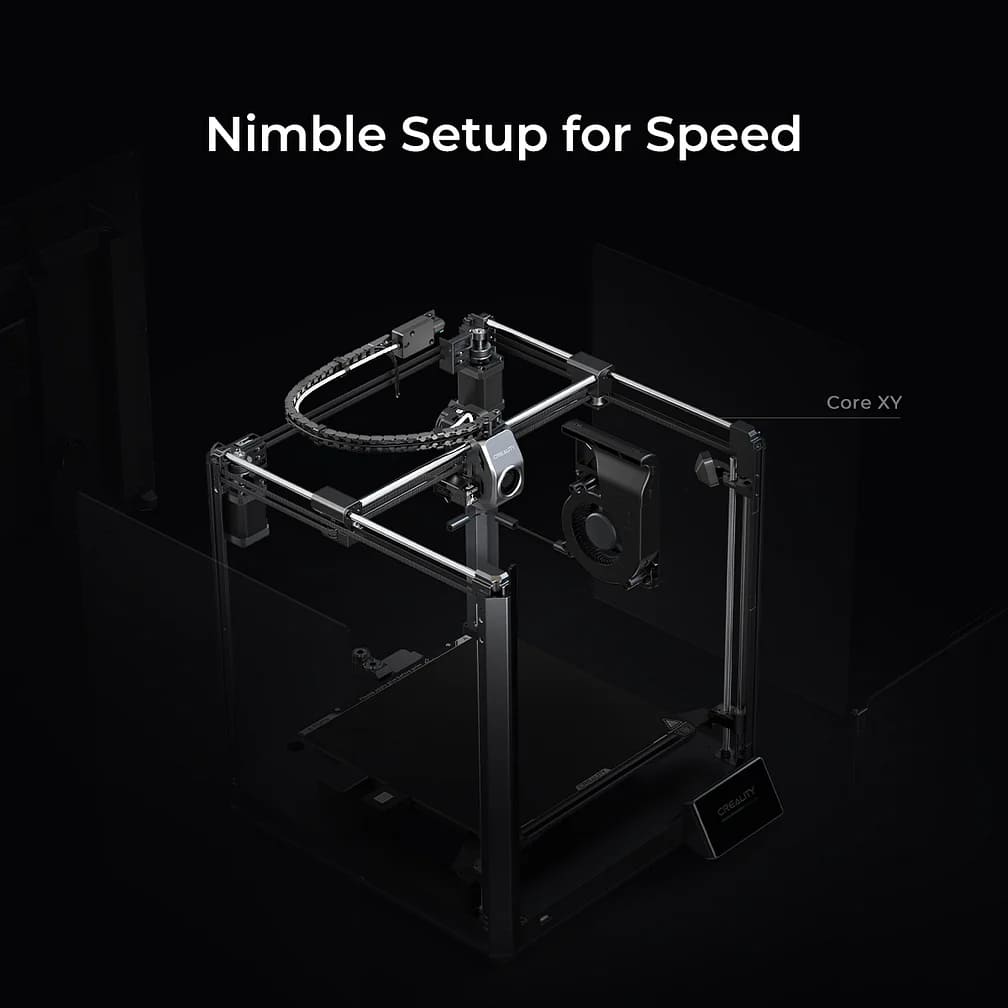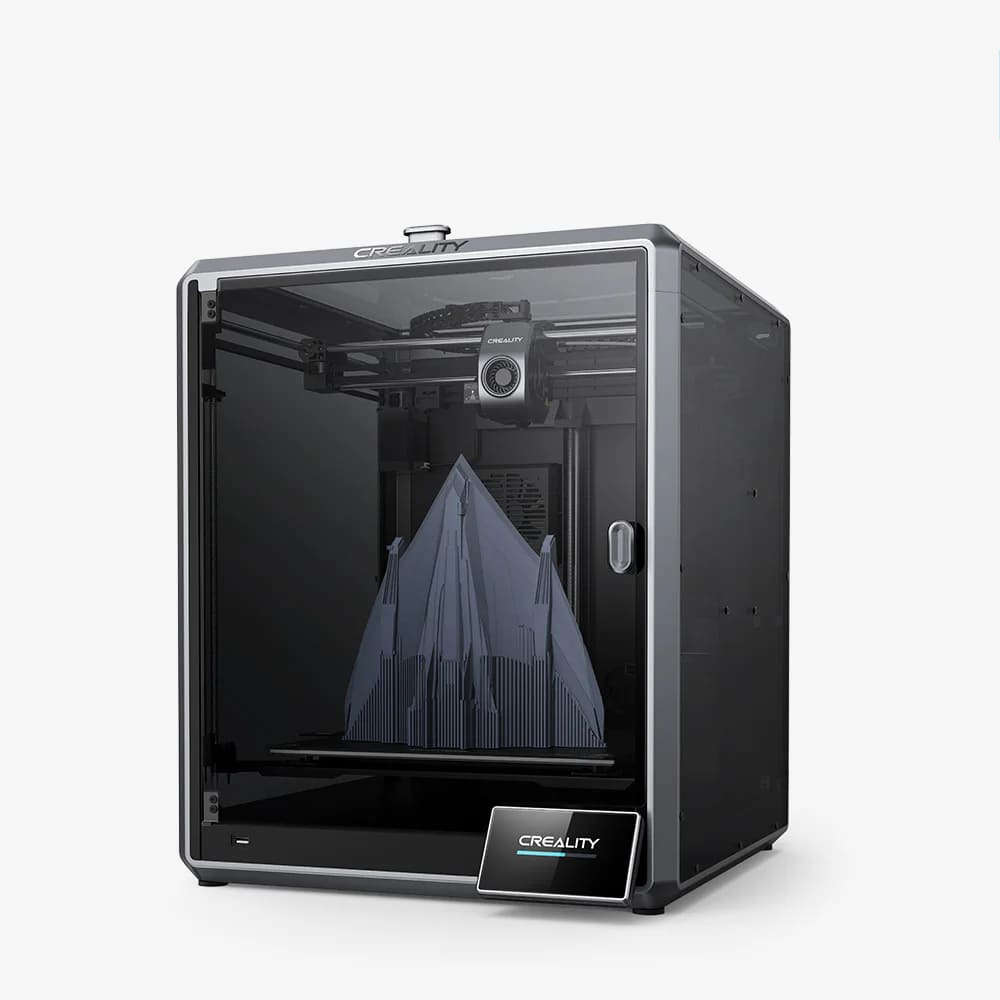 Creality K1 Max AI Fast 3D Printer
Option/Type

Please select product attributes before purchasing~~
Ship to
It is expected to arrive within and will cost
£
GBP
to ship
This item can't be shipped to this Country/Region
Bundles
${ meal.bage }
${ meal.title }
${ meal.skus }
${ sku.name }:
${ skuVal }
People who bought this item also bought

Creality K1 Max 3D Printer Main Features
Creality K1 Max features a blazing print speed of 600mm/s. With a large-scale build volume of 300 x 300 x 300mm and a dual-gear direct extruder capable of heating up to 300 Degrees Celsius, Creality K1 Max will satisfy most of your printing requirements.
Printing at up to 600 mm/s
300*300*300mm Build volume
Fully automatic bed leveling
AI-supported
Built-in air purifier
4.3-inch touchscreen
Smart Features: AI Camera, AI LiDAR, Power Loss Recovery, Filament Runout Sensor, Input Shaping, Lightning Kit, Sleep Mode
Compatible with various slicer software such as Creality Print, Cura, Simplify3D, PrusaSlicer
Super Power of Speed
K1 Max can reach 600mm/s in only 0.03s based on 20000mm/s² acceleration. It can be as productive as several 3D printers together. Also, it combines the nimble Core XY with a 190g lightweight printhead for less motion inertia.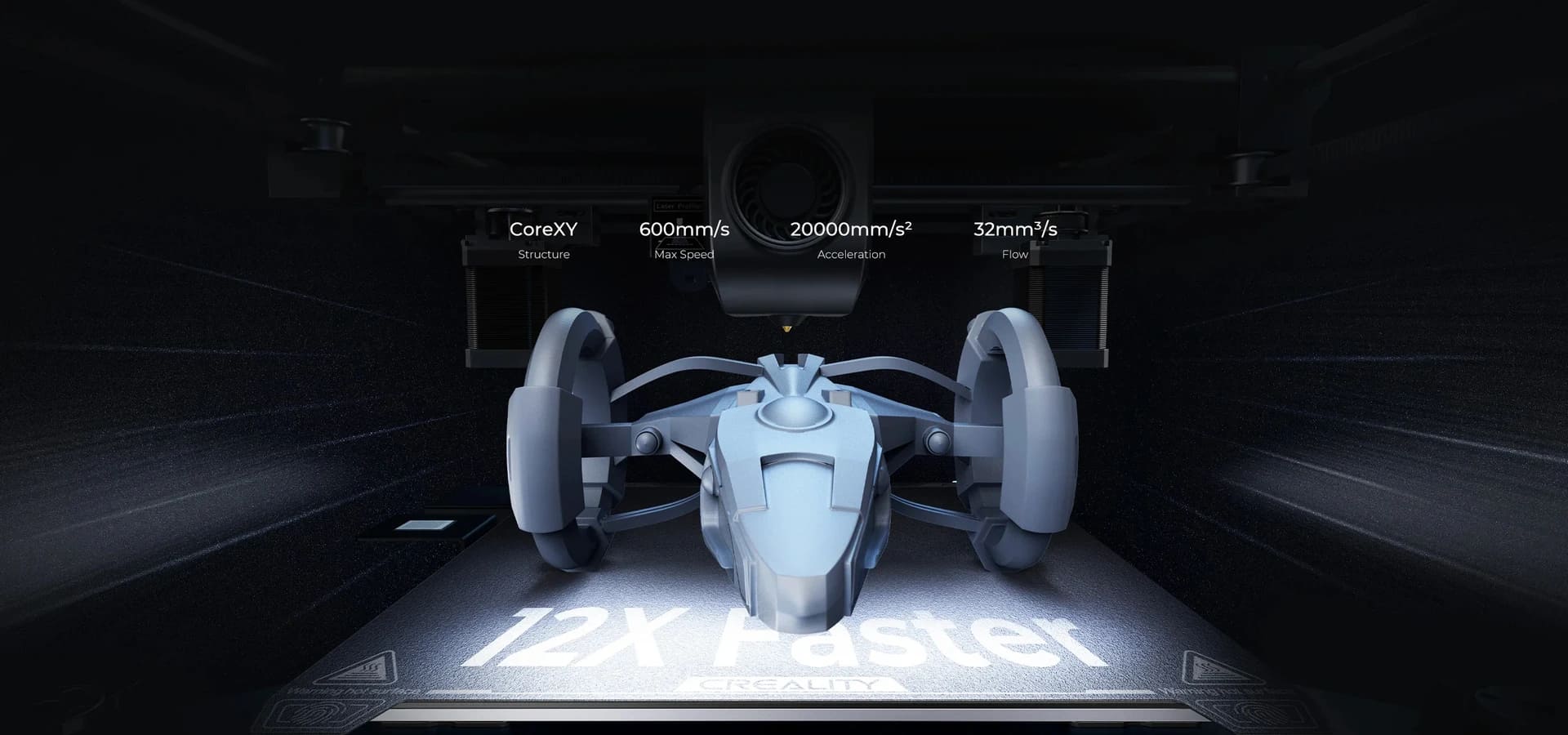 Max 32mm³/s Flow, High-Temperature Working
Adopts new ceramic heater, encircling the entire hot end. It heats to 200 Celsius in 40 seconds and melts the filament instantly. The dual-gear direct extruder can deliver strong extrusion force. Hotend with a titanium alloy heat break and a hardened steel nozzle, working with flying colors in up to 300 Celsius.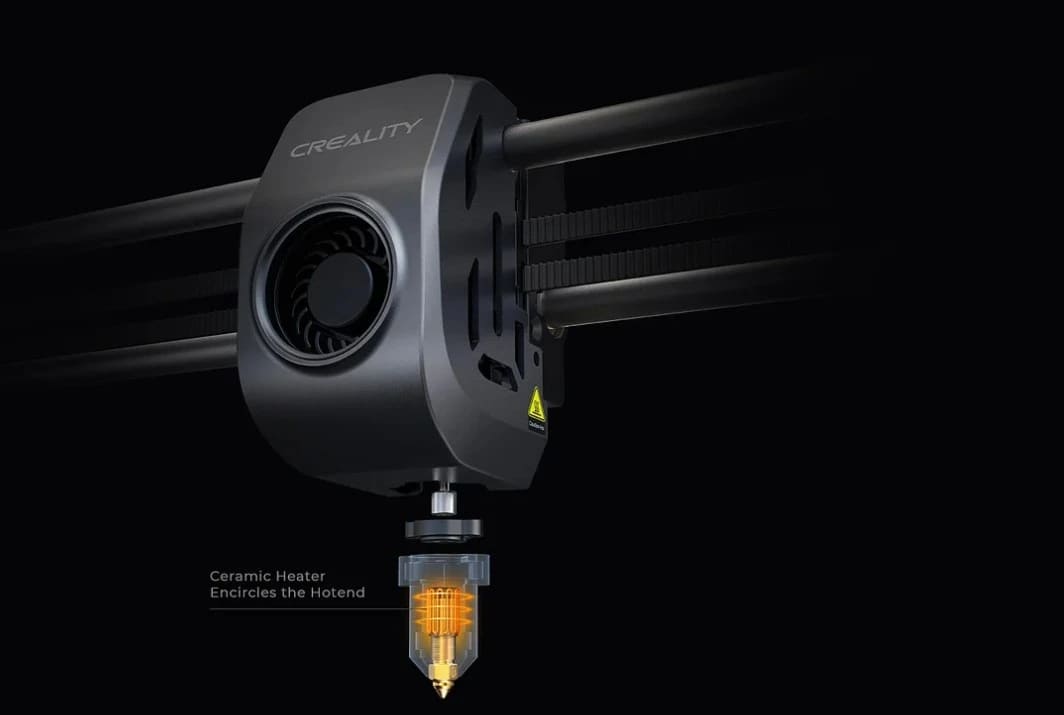 300x300x300mm Large Build Volume
K1 Max boasts a 300x300x300mm large build volume, great for rapid prototyping or design verification. It also offers a high build volume to printer size ratio of 25.5%, making it the most size-efficient FDM 3D printer in its class.

Smarter System
K1 Max 3D printer adopts the smart Creality OS. It features a straightforward UI, and syncs data and commands with PC, phone, Cloud, and add-on modules. An AI camera to watch over spaghetti failure, foreign objects, debris, etc. It will alert you when an error occurs. The 1 μm resolution LiDAR will scan the first layer on its own. It will pause printing and tell you immediately if something goes wrong.

Auto Leveling
First, strain sensors generate an accurate leveling mesh for auto compensation. Second, AI LiDAR scans the bed tilt at million points for more precise leveling. Both ways are hands-free and do not require any attention.

Creality Print 4.3 Slicer
The latest self-developed slicer Creality Print 4.3 includes rich presets, and streamlines the slicing process into 3 simple stages. Besides, it bolsters high-speed printing with variable line width, arc path, and so on.

WiFi Connection
Once K1 Max is connected via WiFi or RJ45 Ethernet port to the LAN or Internet, you can monitor and control the printing from a PC or phone with Creality Print software or Creality Cloud. Even better, when many K1 Max printers are online, they can be easily clustered or grouped for volume production.

Better Feeding with Motion Advance
The motion advance function will deliver the optimal feeding flow. It reduces blobs and oozes effectively.

Solve Ringing and Z-banding
The upgraded Z-axis with more accurate positioning reduces Z-banding effectively. The texture has never been so subtle. A G-sensor in the printhead measures the resonance frequencies of high-speed printing, and auto-tune the printer to mitigate it. No more ghosting or ringing on the print.

Dual Cooling Fans
A large fan on the printhead with air ducts cools the model directly. Also, there is an 18W auxiliary fan in the build chamber that enhances the cooling effect.

Effective Air Purifier
The built-in air filters will purify unhealthy compounds generated during printing, making printing much more pleasant.
Specification
General
Brand: Creality
Type: 3D Printer
Model: K1 Max
Color: Black
Specification
Printing Technology: FDM
Build Volume: 300*300*300mm
Printing Speed: ≤600mm/s
Acceleration: ≤20000mm/s2
Printing Accuracy: 100±0.1mm
Layer Height: 0.1-0.35mm
Extruder: Dual-gear direct drive extruder
Filament Diameter: 1.75mm
Nozzle Diameter: 0.4mm (swappable with 0.6/0.8mm nozzle)
Nozzle Temperature: ≤300 Celsius
Heatbed Temperature: ≤120 Celsius
Build Surface: Flexible build plate
Leveling Mode: Dual hands-free auto leveling
File Transfer: USB drive, Ethernet, WiFi
Display Screen: 4.3-inch color touchscreen
Al Camera: Yes
Al LiDAR: Yes
Power Loss Recovery: Yes
Filament Runout Sensor: Yes
Air Purifier: Yes
Input Shaping: Yes
Lighting kit: Yes
Sleep Mode: Yes
Rated Voltage: 100-240V, 50/60Hz
Rated Power: 1000W
Supported Filaments: ABS, PLA, PETG, PET, TPU, PA, ABS, ASA, PC, PLA-CF, PA-CF, PET-CF
Printable File Format: G-Code
Slicing Software: Creality Print; compatible with Cura, Simplify3D, PrusaSlicer
File Formats for Slicing: STL, OBJ, AMF
UI Languages: Chinese, English, Spanish, German, French, Russian, Portuguese, Italian, Turkish, Japanese
Weight & Size
Product Weight: 18kg
Package Weight: 23kg
Product Size(L x W x H): 435*462*526mm
Package Size(L x W x H): 508*508*608mm
Package Contents
1 x 3D Printer
1 x Touch Screen
1 x Filament
1 x Set of Wrenches and Screwdrivers
1 x Blade
1 x Material Barrel
1 x Cutting Plier
1 x 1.2mm Nozzle Cleaner
1 x M6 Socket Spanner
1 x USB Flash Disk
1 x Glue Stick
1 x Lubricating Grease
1 x Power Cable
1 x User Manual

Customer Reviews
Write A Review
Ask A Question
Reviews (7)
Questions (0)