Creality Ender 3 Pro 3D Printer
Ender-3 Pro 3D printer
Creality Ender-3 Pro 3D Printer | A perfect home 3D printer that comes with the wider Y-axis mounts and provides a more reliable brand of power supply. The additional function of protection against thermal runaway ensures a safer working environment.
Large Build Volume With the 8.7 x 8.7 x 9.8 "(220 x 220 x 250 mm) build area, you can create large and complex models.
For every problem, we have more than 20 engineers who provide professional support and original accessories for daily machine maintenance.
Update triangle slot
Triangle-Slot cooperates with the Prusa I3 frame: The extremely innovative design, which follows the trend and integrates with classic elements, creates a new generation of economical DIY 3D printers.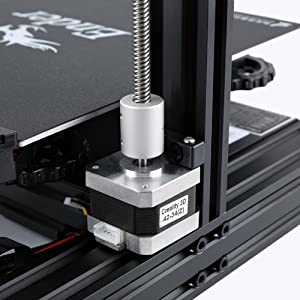 Magnetic construction area
Offer comprehensive protection for your 3D printer build plate and ensure an even temperature over the entire build area. Easy removal of the print models after cooling.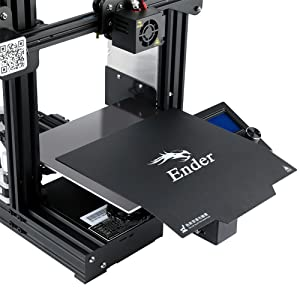 Patent technology
I improved the extruder significantly reduces the risk of clogging and poor extrusion. Patent technology: Due to the triangular slot with POM wheel, it moves noiselessly, smoothly and durable.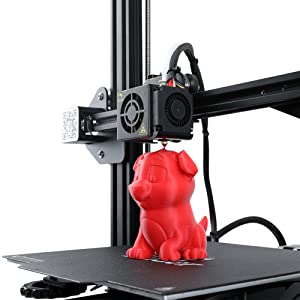 Full metal frame
The Creality Ender-3 Pro 3D printer is an updated version of the Creality Ender-3 3D printer.
Thanks to improved components, the Creality Ender-3 Pro 3D printer can print more safely and stably.
High-precision CNC machining techniques for all metal brackets and brackets ensures precise positioning and an all-round more stable structure.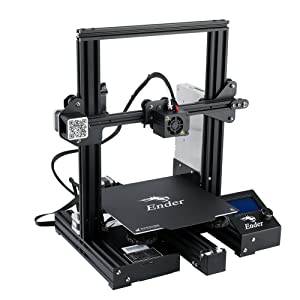 Improved mechanical properties
Redesigned with a much more stable 40x40 aluminum extrusion for the Y-axis base. This provides unprecedented stability of the printing surface, resulting in improved print quality.
Our brand new, state-of-the-art magnetic bed "C-MAG" is completely removable and flexible and perfectly suited for the Creality Ender-3 Pro 3D printer.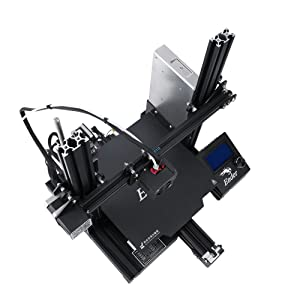 Safe MeanWell power supply
Creality Ender 3 Pro 3D printer is protected from power surges and blackouts by its power supply.
If the power is interrupted, prints can resume from the last shift, saving time and reducing waste, protecting your printer from unexpected power surges and warming the hot bed to 110 ° C in just 5 minutes, ensuring a safer and faster Heating of all necessary components.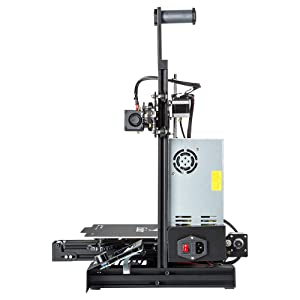 About this printer:
[Upgrade Version of Creality Ender 3] - Ender 3 Pro comes with the Meanwell power supply and new platform sticker. The Ender 3 Pro boasts the same outstanding performance as the Ender-3, upgraded components make Creality Ender 3 Pro more stable, durable and more comfortable to operate.
[MeanWell Power Supply] - We adopt the MeanWell power supply, which is produced by the listed company with mature technology, and it meets all the needs of fast heating and long-time 3D printing. The printer is shielded by its power supply from voltage spikes and power outages. If electrical power is lost, prints can be resumed from the last layer, saving time and reducing waste.
[More Stable] - Redesigned with a much more sturdy, 40x40 aluminium extrusion for the Y-axis base. This provides stability for the printing process, leading to better print quality.
[Superior Printing Surface] - A new state of the art "C-MAG" magnetic sticker is designed for Ender 3 Pro, it is entirely removable, flexible and can better adhere to the platform. Once the model is finished printing, remove the magnetic upper from the lower and bend or flex the print surface to watch the model effortlessly pop off the printing surface.
[Enriched Accessories] - It must be surprising that more useful accessories included in our package. Extra parts can save you time while you need, also cost-effective.