Creality K1 Max Ultra-Fast 3D Printer Hits the Market
2023-07-13

What You Need to Know About the Creality K1 Max
Creality has gone all in with its new series of 3D printers, promising speed, smarts, and in the K1 Max's case, a larger build volume.
SPEED
A dominant feature of Creality's reveal of the K1 and K1 Max is the speed of the printers. Creality touts a 600 mm/s print speed for both machines, with acceleration of up to 20,000 mm/s. There are asterisks alongside these claims, though, with Creality stating 300 mm/s and 800 mm/s travel speeds as typical for the K1 Max.
It's a bit of a difference, but not unusual when it comes to marketing bluster about "fast" printers these days. Bambu Lab skirts this by saying a "top" speed alongside its numbers, whereas AnkerMake says its device is five times faster (than a slow, hand-picked comparison machine). It's all smoke and mirrors but, by and large, these machines are faster than the glut of printers we've been accustomed to over the last years.
The K1 Max design as a CoreXY style 3D printer does lend itself to speedy printing, with the print bed static for each layer and a belt and rod arrangement for the X- and Y- axes movement.
Lightweighting of the print head brings it down to just 190 g. To put this into perspective, the Ender 3 S1's Sprite extruder – which Creality marketed as lightweight – weighs 286 g. A lighter print head means less mass to accelerate and decelerate through print and travel moves, helping to reduce vibrations that impact on the surface of a 3D print.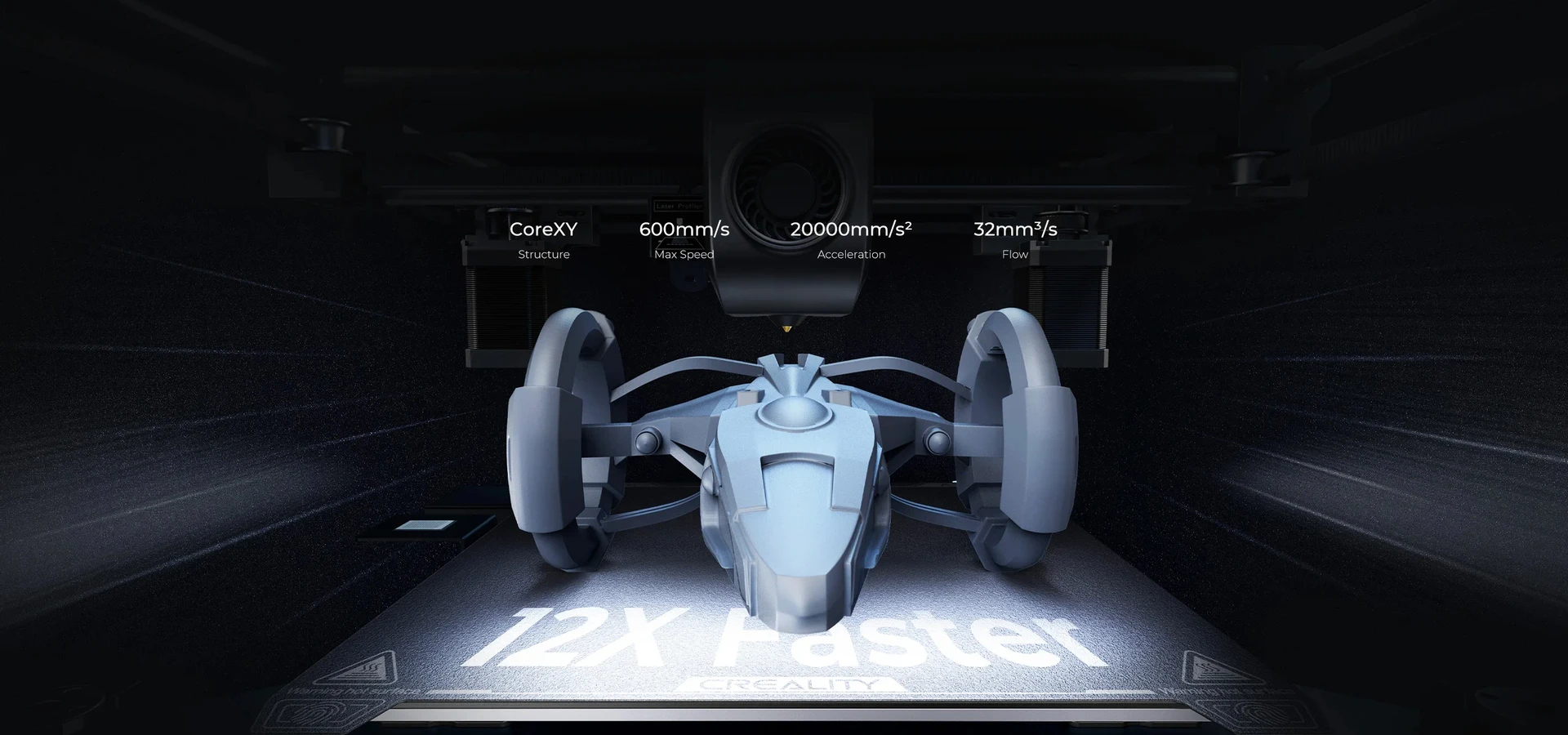 G-SENSOR INPUT SHAPING
To help mitigate any vibrations of the print head – the wobbles from it changing direction quickly – the K1 Max features a G-sensor that it uses it detects the resonant frequencies. With this data, the printer can modify its movement to counteract the ringing that would ordinarily be present at such print speeds, smoothing things out and bringing the print closer to its desired dimensions and finish. This particular method is known as input shaping.
HOT END & EXTRUDER
While no specific name has been given to the K1-series' extruder, we do know that it's a lightweight unit that features a high-flow hot end. This is necessary for faster printing, naturally, since the flow of molten filament will need to keep pace with the travel of the print head.
Creality puts a number on this flow, citing 32 mm³/s, but gives no further detail – print settings and material profiles will be a modifying factor on this.
Interestingly, the K1 Max makes use of a new and seemingly proprietary ceramic hot end that can heat quickly. Creality states it can go from cold to 200 °C in just 40 seconds. Judging by the company's description, it is what we'd consider all-metal, with a titanium-alloy heatbreak. It can heat to 300 °C and comes with a hardened steel nozzle as standard. Filament is fed by a dual-gear direct extruder.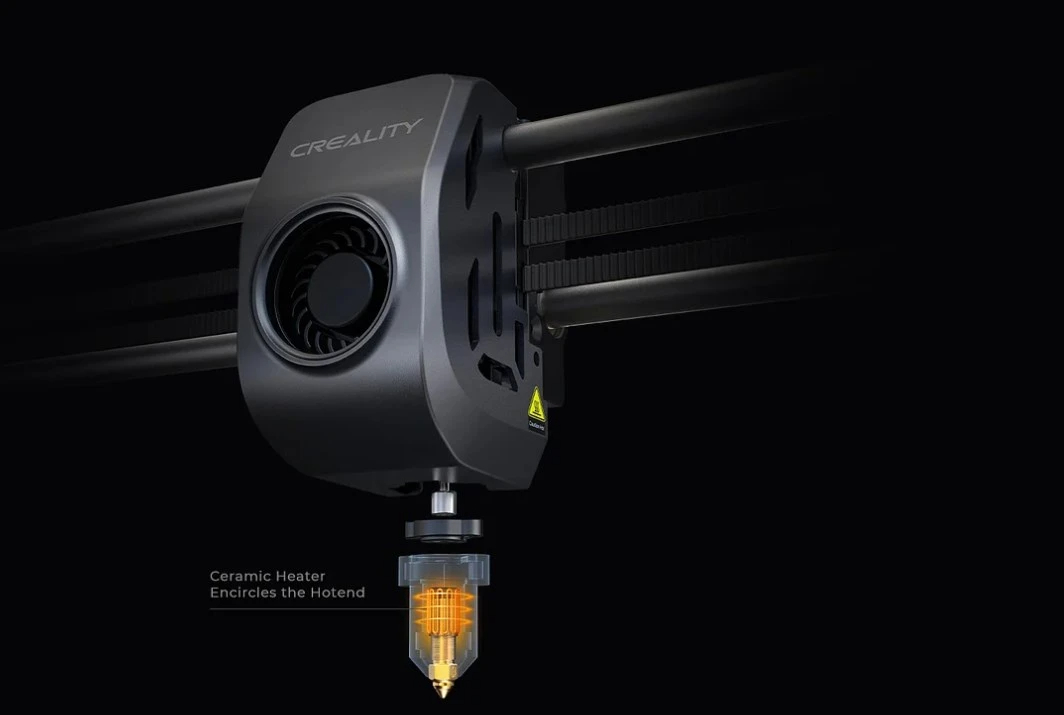 ENCLOSURE & COOLING
If it weren't apparent to you from the pictures, the K1 Max is completely enclosed, making it an attractive option for higher temp printing involving warp-happy materials like ASA, PC, and PA. It's a full enclosure, too, meaning there's a top cover to help stabilize print chamber temps. Any heating will be passive, though. There's no active chamber heating.
While the K1 Max hot end features what Creality calls a "large fan" on the print head for direct cooling, there is an auxiliary chamber fan, too, to help the printer contend with fast prints speeds and the need for instantly set plastic the moment it leaves the nozzle.

BUILD VOLUME
One of the key reasons we think the K1 Max is trending hard right now is its build volume. At 300 x 300 x 300 mm, it offers a roomier print volume than Bambu Lab's printers, with feature parity, for less money. Without sinking the time and money into a Voron 2.4 or similar project printer, the K1 Max seems to be a uniquely good proposition.
For comparison, the standard K1 has a build volume of 220 x 220 x 250 mm but misses the camera and lidar functionality of the K1 Max.
Featuring a flexible removable print bed, the K1 Max's print bed heats to 120 °C.

"AI LIDAR" BED LEVELING & FLOW CONTROL
Of the two K1-series 3D printers, only the K1 Max features a lidar sensor as standard. Sitting shotgun to the print head, this module maps out the first layer of a print and, we assume by using a reference model generated at slicing, detects whether there is a problem and alerts you to it. Additionally, the lidar system will also assist the printer in adjusting filament flow. It's not dissimilar from how Bambu Lab's X1 Carbon 3D printer uses lidar.
Something else it could do, though we're not sure it will, is assist the printer in setting the nozzle height and helping get a perfect first layer. We've reached out to Creality for clarity on this but got no response by the time of publishing.

"AI CAMERA" PRINT FAILURE DETECTION
Further smartness on the K1 Max comes in the form of a camera which, paired with "AI" (here a machine vision system), provides a degree of print overwatch. In addition to remote monitoring of your print in progress, and timelapse recording, the camera system will watch out for debris and other signs of print failure.

NETWORK & CONNECTIVITY
Tying all of the K1 Max's smart functionality together and forming the base of the user experience will be what Creality calls Creality OS. A 4.3-inch color touchscreen display sits outside the enclosure for direct printer control, with 8 GB of onboard storage for your printable models.
The K1 Max can be hooked up to your Wi-Fi network for remote monitoring and sending prints directly from your slicer, web browser, or the companion Creality Cloud app.
Alternatively, there's a USB port for you to print offline, plus an Ethernet port for adding the K1 Max to a wired network.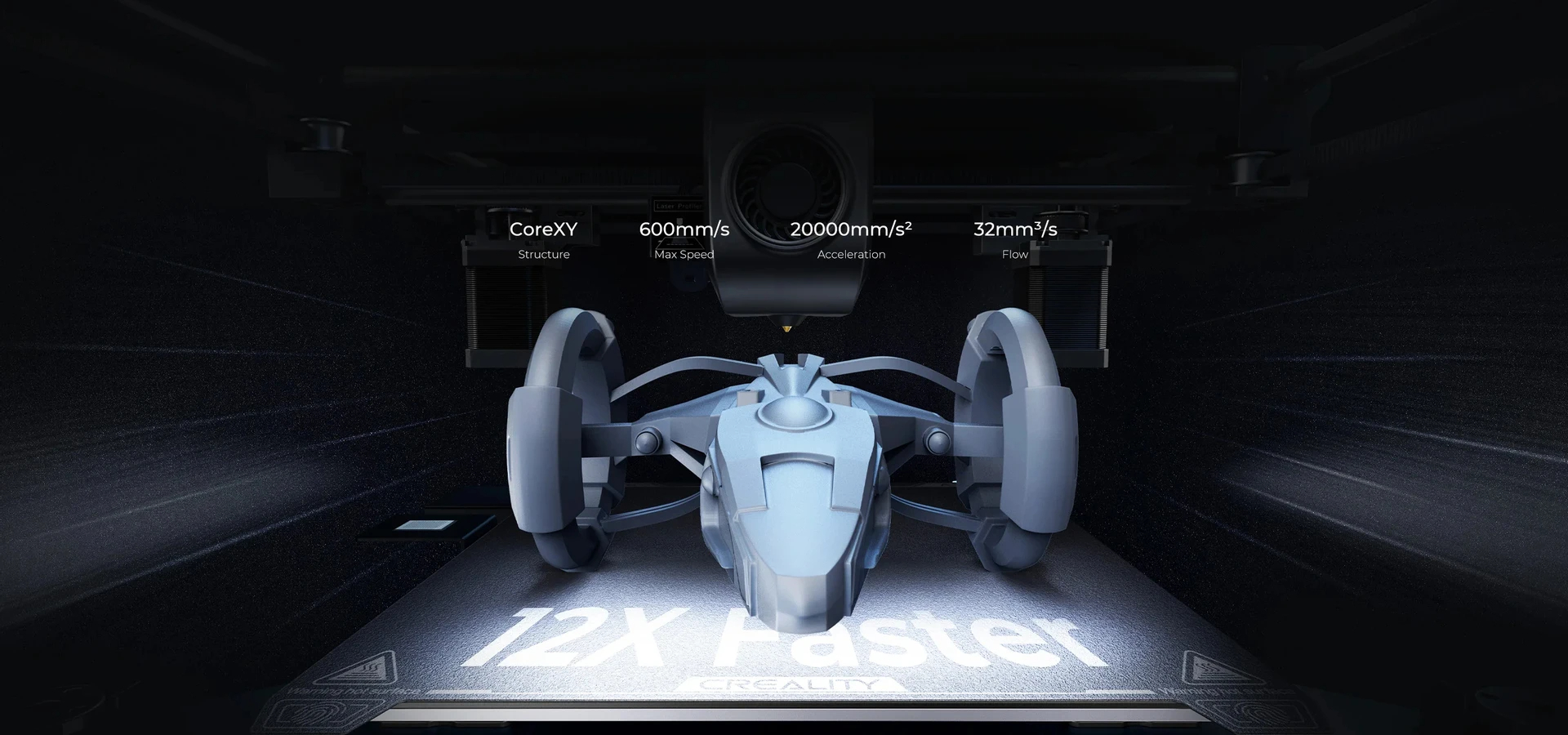 Following Creality's release of the CR-M4 a few months ago, which the company pushed as a print farm workhorse, we're seeing a similar push for productivity with the K1 Max – multiple machines can be clustered into groups in the company's software for simple volume printing. While no explicit examples of this are given, the implication is there that a single slicer model could be pushed to multiple machines in one action.
FURTHER FEATURES:
Air Purifier: The K1 Max is slated to come with an air filtration unit integrated into the printer's enclosure.
Lighting: The print chamber is illuminated with LED lighting coming as standard with the K1 Max.
Diagnostics and Calibration: In what might be a first for a Creality 3D printer, the K1-series machines will run self-checks on the first startup to ensure that all essential components are functioning as intended. Whether this will quite go to the lengths we see with printers from Prusa Research, this is a welcome new step for Creality.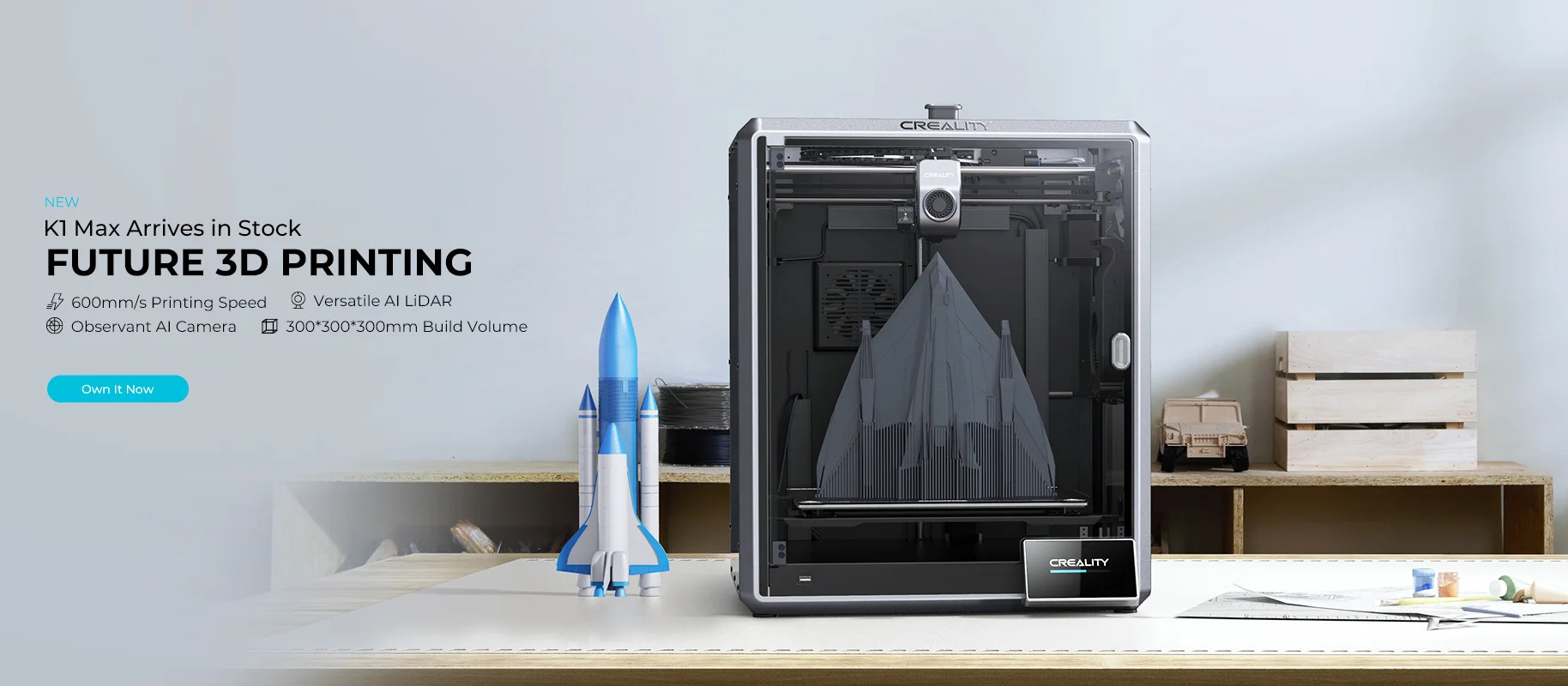 Technology: FDM
Year: 2023
Assembly: Plug & play (ships virtually ready to print – plug it in and go)
Mechanical arrangement: CoreXY
Build volume: 300 x 300 x 300 mm
Feeder system: Direct, dual-geared
Nozzle: 0.4 mm, hardened steel
Max. hot end temperature: 300 °C
Max. heated bed temperature: 120 °C
Print bed material: Removable, flexible
Bed leveling: Auto-bed leveling using load cells, lidar
Connectivity: Wi-Fi, USB, Ethernet
Filament sensor: Yes
Filament diameter: 1.75 mm
Frame dimensions: 435 x 462 x 526mm